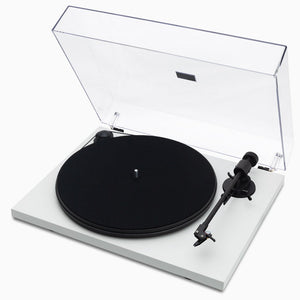 Andover - Spindeck - White
Belt Driven Turntable
810039090138
Spindeck offers users of all backgrounds a plug-and-play system right out of the box. Featuring high-quality materials and precision-engineered parts, Spindeck is the perfect vinyl-playing addition to Spinbase or your favorite audio components.
Spindeck simplifies turntable setup with a straight 8.6 sapphire-bearing tonearm, made from a single piece aluminum, which is outfitted with a pre-mounted custom Ortofon OM Series cartridge.
The main chassis of the turntable is made from engineered particle board, which is sturdy yet light-weight. Housed underneath the chassis is an ultra-quiet synchronous motor with a silicone belt that drives a low-resonance platter made from MDF.
An AC-powered motor control minimizes unwanted vibration and the main platter bearing consists of a stainless-steel spindle and a bronze bushing with a Teflon bottom.
Features:
Super-Simple Setup Pre-Set Tonearm and Counterweight
Pre-Mounted Custom Ortofon OM Series Cartridge
Aluminum Tonearm with Sapphire Bearings
Queuing Lever
Belt-drive with Silicone Belt
Low-Vibration Synchronous Motor with AC-Power
Pre-Mounted Gold-Plated RCA Interconnect Cable
Special Turntable Feet for Effective Decoupling
Acrylic Lid (Included).
Made Exclusively by Pro-Ject for Andover