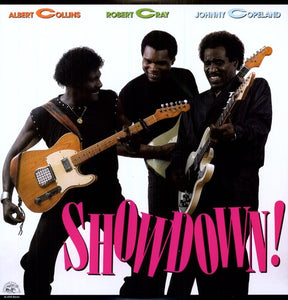 Collins/Cray/Copeland - Showdown!
New Vinyl - Reissue, 200g
014551474319
Alligator's Grammy-winning, best-selling title of all time (which has sold over 285,000 units), remastered on 180-gram vinyl with the added bonus track "Something to Remember You By". Universally recognized as one of the greatest blues albums of all time. A celebrated studio "cutting contest" between three legendary blues guitarists.
1. T-Bone Shuffle
2. The Moon Is Full
3. Lion's Den
4. She's Into Something
5. Bring Your Fine Self Home
6. Black Cat Bone
7. The Dream
8. Albert's Alley
9. Blackjack 1
10. Something to Remember You By