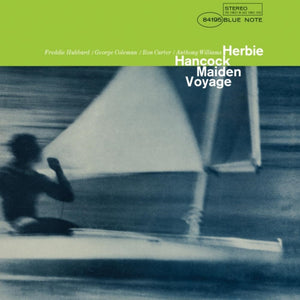 Herbie Hancock - Maiden Voyage
New Vinyl,

602435931968 - Blue Note Classics Series

1965's Maiden Voyage remains one of the pinnacle artistic achievements of the great pianist's career. Hancock is joined by Miles Davis Quintet bandmates Ron Carter on bass & Tony Williams on drums, along with Freddie Hubbard on trumpet & George Coleman on tenor saxophone. The quintet embarks on an oceanic exploration of 5 original Hancock compositions, several of which have since become enduring standards of the jazz lexicon including the title track, "Eye of the Hurricane," & "Dolphin Dance.
Tracklist : 

A1 Maiden Voyage
A2 The Eye Of The Hurricane
A3 Little One

B1 Survival Of The Fittest
B2 Dolphin Dance