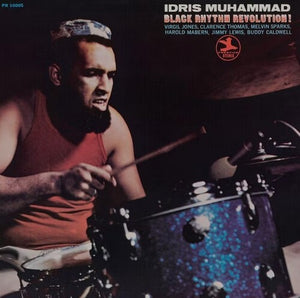 Idris Muhammad - Black Rhythm Revolution!
New Vinyl
Jazz Dispensary Top Shelf Series 
888072420649
1. Express Yourself
2. Soulful Drums
3. Super Bad
4. Wander
5. By the Red Sea
Black Rhythm Revolution! Is the first solo album from the jazz-funk legend Idris Muhammad, a New Orleans-bred percussion wizard. Here we catch him accompanied by virtuosos Kenny Barron, Ron Carter, Melvin Sparks, who came together for sessions overseen by legendary producer Rudy Van Gelder. This 180-gram reissue of Black Rhythm Revolution! was cut from the original analog tapes by Kevin Gray and pressed at RTI, and comes packaged in a tip-on jacket.