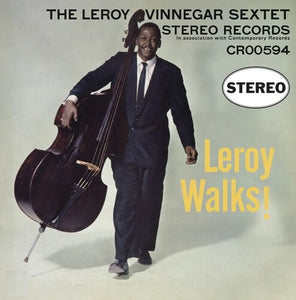 Leroy Vinnegar - Leroy Walks!
New Vinyl 
Contemporary Records Acoustic Sound Series
888072471481
1. Walk On
2. Would You Like To Take A Walk
3. On The Sunny Side Of The Street
4. Walkin'
5. Walkin' My Baby Back Home
6. I'll Walk Alone
7. Walkin' By The River

This new pressing of bassist Leroy Vinnegar's first album as a leader Leroy Walks! Is released as part of Acoustic Sounds celebration of Contemporary Records. Originally released in 1958 the album sees Victor Feldman, Gerald Wilson, Teddy Edwards, Carl Perkins, and Tony Bazley joining Vinnegar. Recorded by Roy DuNann this edition is pressed on 180-gram vinyl pressed at QRP with (AAA) lacquers cut from the original tapes by Bernie Grundman and is presented in a tip-on jacket.