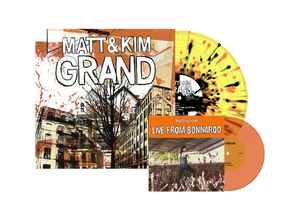 Matt and Kim - Grand
New Vinyl - Yellow W/ Orange and Black Splatter  and Bonus 7"
RSD Essential

829299244311

1. Daylight
2. Cutdown
3. Good Ol' Fashion Nightmare
4. Spare Change
5. I Wanna
6. Lessons Learned
7. Don't Slow Down
8. Turn This Boat Around
9. Cinders
10. I'll Take Us Home
11. Daylight Outro (Remix)


RSD Essential 037 * Includes a bonus 7" - Live in Bonnaroo 2013 - exclusive to this pressing * From the band - We self produced/recorded this album in a room with no heat in the middle of winter. We never expected you, the person who is reading this, would ever hear it. I think that's really part of the magic of it.