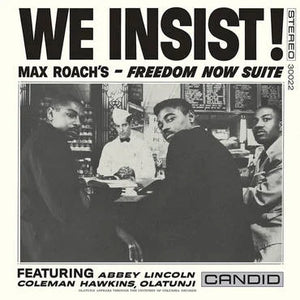 Max Roach - We Insist!
New Vinyl 

Record Store Day 2022

708857301218

LIMIT ONE

An avant-garde masterpiece, a vocal-instrumental suite, a work of collective improvisation, directly addressing the racial and political issues of it's day, We Insist! Max Roach's Freedom Now Suite is one of the most important artistic statements of the Civil Rights Movement and one of the most groundbreaking jazz albums of all time. The five movements of the work are organized as a historical progression through African-American history, a shape similar to the one in Duke Ellington's Black, Brown and Beige. The Freedom Now Suite moves from slavery to Emancipation Day to the contemporary civil-rights struggle and African independence. Roach vowed after its release that he would never again play music that is not socially relevant and told Down Beat magazine, "We American jazz musicians of African descent have proved beyond all doubt that we're master musicians of our instruments. Now what we have to do is employ our skill to tell the dramatic story of our people and what we've been through."