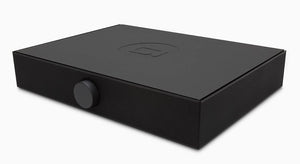 Spinbase - Black
810039090046
Andover SPINBASE Black Turntable Speaker System
Your Turntable Speaker Solution.
SpinBase is an all-in-one powered speaker system for turntables, designed for today's vinyl enthusiast. It packs room-filling sound, simple operation, and easy connectivity in a compact package that sits comfortably under any turntable – old or new. Spinbase features Andover's IsoGroove for vibration-free performance, and it's equipped with Bluetooth to stream music wirelessly from your phone, computer, or tablet.
Key Features
Connecst to any Turntable, New or Old
Built-In Phono Pre-Amp
Bluetooth
Headphone Out
270º Sound Dispersion
IsoGroove Feedback-Free Performance
Bass and Treble EQ Controls
Features
Minimalistic Design
SpinBase gives you everything you need to enjoy vinyl and streamed music in a no fuss box, with a clean design that seamlessly integrates with your home. It features a durable perforated metal grill, textured top surface, and large knob for improved ergonomics.
The Right Fit
SpinBase accommodates all popular large turntables, including the Numark TT-100, Technics SL-230, and Audio Technica LP-120. As long as your turntable feet fall within Spinbase's dimensions (see diagram below) you are good to go.
270º Sound
SpinBase features four speaker drivers, designed to emit a large 270º sound stage – perfect for filling a room with expansive music. SpinBase gives listeners the detail, separation, and wide soundstage traditionally produced in separate stereo speakers.
All Music. No Needle Skip.
Andover's IsoGroove Technology is a proprietary means of preventing feedback, resonances, or any other audio-disruptive noise that typically occur when a turntable is placed next to a speaker system.