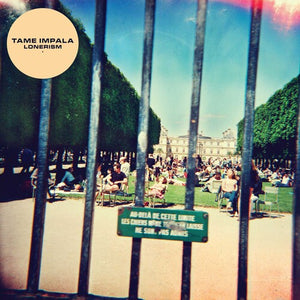 Tame Impala - Lonerism: 10th Anniversary
New Vinyl 
602445493920
1. Be Above It
2. Endors Toi
3. Apocalypse Dreams
4. Mind Mischief
5. Music To Walk Home By
6. Why Won't They Talk To Me?
1. Feels Like We Only Go Backwards
2. Keep On Lying
3. Elephant
4. She Just Won't Believe Me
5. Nothing That Has Happened So Far Has Been Anything We Could Control
6. Sun's Coming Up
1. Retina Show – Unreleased Demo
2. Sidetrack Soundtrack
3. Assorted Sketches, 2010-2012
To celebrate the 10th anniversary of Lonerism, Tame Impala present fans with a deluxe 3 LP reissue of the album that features previously unreleased demos from the era. Lonerism was Tame Impala's breakout record. It received critical acclaim from the likes of Pitchfork and NME and is regarded as one of the best albums of 2012. This expanded deluxe edition of the album features the original album track list, 2 previously unreleased demos, a full side of album demos, and a deluxe 24-page booklet.