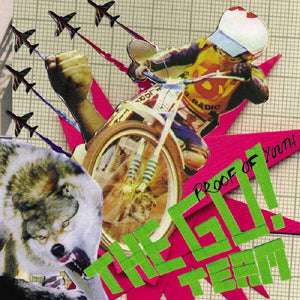 The Go! Team - Proof of Youth [Bubblegum LP]
New Vinyl  - Record Store Day 2022
5056340103616
MI099LPX1
LIMIT ONE
15-year anniversary of The Go! Team's classic album 'Proof of Youth', repressed for the first time since 2007.
Bombing melodies into the stone-age with its needle-in-the-red, anti-production approach, Proof of Youth lurches from bubblegum pop to white noise in a heartbeat. This time the band bring a gang of glorious misfits to the party - including Public Enemy legend Chuck D, the original Double Dutch Divas, Maryland's pint sized Rapper's Delight Club, Marina from Bonde Do Role, Amsterdam based Solex and Washington DC's Frederick Douglas All Star Cheer Team.
Now reissued on limited edition bubble gum vinyl plus bonus flexi disc for Record Store Day 2022.
1. Grip Like A Vice 2. Doing It Right 3. My World 4. Titanic Vandalism 5. Fake ID 6. Universal Speech 7. Keys To The City 8. The Wrath Of Marcie 9. I Never Needed It Now So Much 10. Flashlight Fight (feat. Chuck D) 11. Patricia's Moving Picture